Studies of the Islamic Revolutionary Guards Corps (IRGC)'s role in the Iranian economy often focus on its illicit activity, like smuggling, or its involvement in construction and the media. These studies overlook the IRGC's involvement in a sector crucial for meeting the IRGC's growing need to develop technologically: science and technology (S&T) parks. The IRGC's foray into S&T parks further blurs the lines between civilian and military – the IRGC invests in and collaborates with several prominent Iranian civilian S&T parks as well as develops civilian products at its own S&T parks
The IRGC has struck agreements with several prominent civilian S&T parks in the last year. In July 2022, the IRGC signed a Memorandum of Understanding (MoU) with Semnan University of Technology's S&T Park to invest in the park's technology companies. In November 2022, the IRGC's Scientific Research and Technology Organization in Markazi Province agreed to increase its "cooperation" with Arak Science and Technology Park (ASTP), according to media reports.  These S&T parks' proximity to key strategic installations – the Semnan Space Center and the Arak Nuclear Complex, respectively – highlights opportunities for civil-military collaboration afforded by the IRGC's new relationships with these parks  (See Figure 1 below). One IRGC commander's praise for an S&T park MoU's potential for "creating jobs" underscores the IRGC's mission in other areas beyond defense.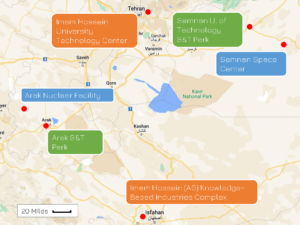 The IRGC operates its own S&T parks (in orange) and collaborates with S&T parks (in green) in proximity to key strategic installations (in blue)
In addition to investing in civilian facilities, the IRGC runs its own S&T parks or incubators, some of which produce civilian as well as military products. The US-sanctioned, IRGC-affiliated Imam Hossein University has a Technology Center which provides research and development support for both defense and civilian purposes. The Center has a three-year road map by which the its various subordinate offices guide applicant companies from the idea stage to mass production and marketing. It is not clear what companies or products have been developed at the Center.
Likewise, the IRGC Ground Forces (IRGC-GF) have an S&T park outside of Isfahan, called the Imam Hossein (AS) Knowledge-Based Industries Complex. The IRGC-GF uses the Complex to identify "technology groups" which conduct IRGC-GF-delegated research and development projects. These units are eventually developed into fully-fledged companies. While much of this work appears to be strictly military – one media report from the Complex showed several armored vehicles and equipment being repaired for the IRGC-GF – it develops civilian products too, such as a surface disinfectant.
As the IRGC expands its research and development capabilities – the IRGC-GF has plans to open several S&T parks in Tehran similar to the one in Isfahan – it will likely continue to develop relationships with civilian institutions. This intertwining of Iranian military organizations and civilian institutions could facilitate the IRGC's access to foreign universities – and their technological advancements – in the name of science and research.
Sources available upon request.